Here at Rocco's Collision Centers, we are always looking for any updates, problems, recalls, and repair procedures released by car manufacturers. We do this so our team is fully prepared to give you the highest quality of repair that you deserve when taking your car to be repaired in Pennsylvania or New Jersey. In addition, you're able to gain a better understanding of how important it is to take your car to be repaired somewhere that knows of what is happening in the auto repair industry.
One of the biggest problems that have been affecting Mazda owners across the country is the chipping paint on their vehicles. Specifically, any of their models that are painted Soul Red Crystal. Mazda glamorizes the color to be full of "vibrancy and energy with an increased depth and gloss…exemplifying the beauty and sophistication…" However, a simple Google search for "Mazda soul red paint" will give you plenty of results of customers sharing the same complaint: chipping paint.
Car repair is nowhere what it was even just 5 years ago. This is because of the advancements in technologies modern cars are made with and the unique repair procedures each car has. The best repair shops know that no repair can ever be done based on "experience," but from checking repair procedures released by a car's manufacturer before the repair begins. It's incredibly complex and can cause long-term damage to a vehicle if done incorrectly. In fact, a bad repair can cause the advanced safety features your car is built with (ADAS systems) to no longer properly work.
This also applies for paint repair on vehicles, which is not as simple as spraying some paint on the car in the paint booth and calling it a day. It requires color matching and a process that technicians need to follow using top-notch equipment. It takes specialized expertise to perform any paint job, whether it's an allover spray job or just some spot paintwork.
Chipping Soul Red Crystal Paint in Mazda's

For the past couple of years, Mazda owners with soul red crystal vehicles are facing the same problem: the paint is chipping at an excessive rate. This is due to the paint is so thin and doesn't have a thick enough layer to absorb the harsh sun, creating several chips across the car. There are countless online forums and petitions filled with owners all facing the same problems. What makes matters worse is car owners are having to pay to repair this problem out of pocket to the dealer rather than the dealer seeing this is a global issue and issuing a recall.

Check out these images of some of the affected cars: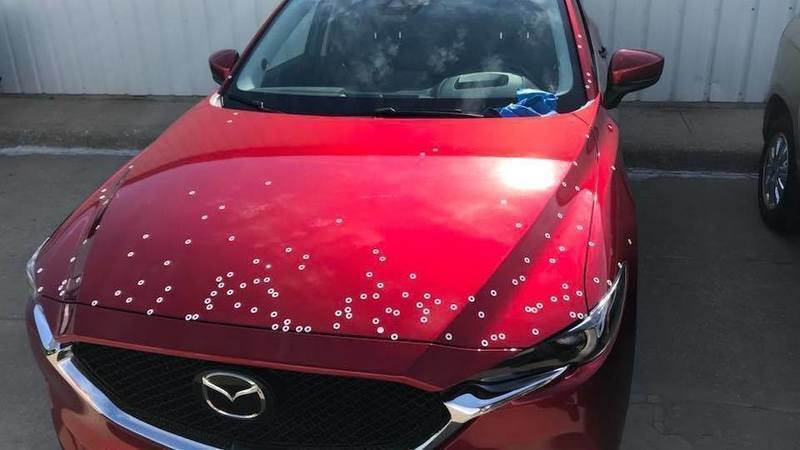 Take a look at what Mazda production communication specialist Jacob Brown said:
"There's no way to get around this…[Soul Red Crystal is] more complicated than what you'd find on any other car at their price points…" (Repairer Driven News)
It's interesting that Mr.Brown acknowledged the complexity of soul red crystal repair, but Mazda has yet to issue a recall. This is why it's critical you take your Mazda to an auto body repair shop that is capable of performing any paint repair and follows the instructions..
Pennsylvania and New Jersey are two states that don't require a technician to be licensed to repair your vehicle. You're already dealing with a lot already with the peeling paint on your Mazda vehicle. We wish we could say that everybody shop knows the importance of meticulously following these repair guidelines. However, there are still several body shops filled with technicians who will repair your vehicle out of "experience" and not safety first.
Who In New Jersey Or Pennsylvania Can Fix It?
We at Rocco's Collison Centers know that you have many choices when it comes to choosing where to get your car repaired, especially in the Philadelphia and Southern New Jersey areas. We are always looking at any possible recalls for every car manufacturer so that we are better prepared to adequately serve you with the best possible service out there.
Each one of our technicians has gone through extensive training and have received their certifications. We follow OEM repair procedures and even work with insurance companies to ensure your vehicle is in the best hands with us. We are experts in paint repair and only use state-of-the-art equipment for any paint repair.
We aim to show you why we are the best out there, which is why we are dedicated to giving you the best repair possible for your car!
We have 6 different locations across Philadelphia and Southern New Jersey. We invite you to see for yourself why Rocco's is the best out there! Feel free to give us a call at anytime at (888)-9-ROCCOS. Or to schedule an appointment or to call any of our locations directly, click here.
We look forward to hearing from you!